My Part Time Life
It's never too late to shift your own narrative and start that business you've always dreamed about! Take it from Erica Marchand – she took the long road to entrepreneurship, working at over twenty jobs before starting Bear+Fox Apparel, a successful clothing company out of Ontario. She firmly believes that when it comes to careers, YOU get to define what success means to you. You don't have to be a doctor, dentist, or teacher – you can go your own way (Fleetwood-Mac style). In this inspiring, witty, and no-holds-barred memoir, Erica shares the life lessons she learned along the way and the secrets to how she created a six-figure business in only a year.
Regular price
Sale price
$16.00 USD
Unit price
per
Sale
Sold out
Share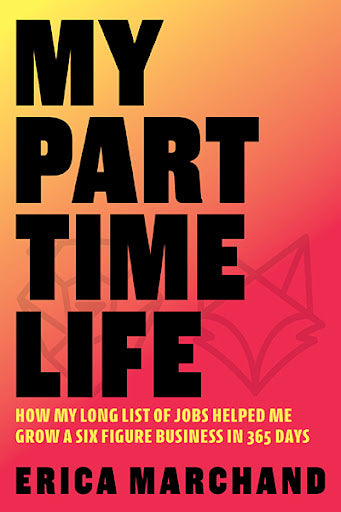 My Part Time Life
Absolutely love it !!! Very well written and love the author 😍💕
I recommend this product
Great read!
Erica had me laughing out loud with some of the antics she got up to in her younger days. From her first job babysitting to her last her job before taking Bear + Fox full time, her storytelling kept me entertained and eager to hear what she got up to next. I could hear her telling a lot of the stories as I read them, which brought the book to life. I really enjoyed the life lessons at the end of the chapters. Great read, highly recommended!
177 pages of what you need to hear
To preface, I'm a fast reader - I read this book in 2 hours, 9 minutes and 8 seconds…but I binged this book harder than a bag of chips - and it's a binge I'm *actually*proud of. Erica approached this book with such honesty, passion and drive, and it kicked ass. As a small business owner myself - we all have hiccups (big or small) in our business that push us over the edge, silent battles we face daily, where we really don't think we can take anymore... Erica opened up on her journey; being relatable af, being honest about imposter syndrome, explaining social media ups and downs and reminding us that we are all on our own path. There's no one way to do things, grow a business or live a life of fulfillment…and she chose happiness…and I think it's the best lesson we all needed to hear. Business owner or not - read this book. It's enlightening, relatable, funny, memory-filled and a freaking VIBE.
excuse me while I SOB INTO A PILLOW! Emily thank you so much for the kind review. This was a huge push outside my comfort zone, and I'm so glad you met me there.